Most Famous Psychics and Mediums in the World
1.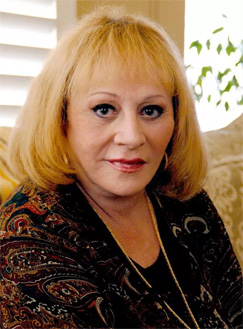 Sylvia Celeste Browne was an American author and a psychic and spiritual medium. She appeared regularly on television and radio, including the shows The Montel Williams Show and Larry King Live, and hosted an hour-long Internet radio show on Hay House Radio. She was the subject of frequent criticism for making psychic predictions that were later proven false, including predictions related to missing persons such as Shawn Hornbeck and Amanda Berry.
2.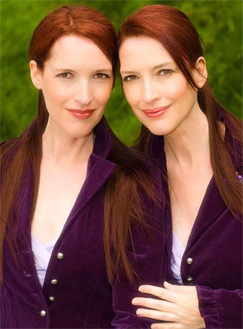 Linda and Terry Jamison – The Psychic TwinsLinda and Terry Jamison (born January 12, 1965) are American identical twins based in Los Angeles, California who perform as psychics. The Jamisons predictions have been featured in tabloid newspapers, and they have appeared in various media. They claim to have channeled the spirits of dead celebrities and predicted future events such as the September 11 attacks, however critics question the accuracy of their predictions.
Career as "The Psychic Twins"
After leaving West Chester, they moved to Los Angeles and refocused their career as psychics, calling themselves "The Psychic Twins", reportedly charging more than $500 per person for psychic readings. According to the Jamisons, they have predicted the future and contacted spirits of the dead, such as Lady Diana, Natalie Wood and Michael Jackson.
The Jamisons predictions have often been featured in tabloid newspapers such as The Sun, and according to the Jamisons, they have have made numerous appearances in print, television, and on stage with "major stars".
The Jamisons widely claim to have predicted the September 11 attacks on the World Trade Center during a November 2, 1999 interview on the Art Bell radio show. However, according to show transcripts, their actual statement was: "We are seeing terrorist attacks on Federal Government, excuse me, federal buildings, particularly South Carolina or Georgia, by July 2002 and also the New York Trade Center, the World Trade Center in 2002." The September 11 attack occurred in 2001, not 2002, and it was common knowledge that the buildings had been previously attacked by terrorists in the 1993 World Trade Center bombing, calling into question the Jamison's claims.
Leon Jaroff, in Time, pointed out that the Jamison twins were also frequently incorrect. For example, in December 2003, the Twins predicted that Saddam Hussein would be killed by U.S troops in early 2004, and that Pope John Paul II would die in June 2004 (he actually died in April 2005). They also incorrectly predicted that the Bush/Gore election would be a "crashing bore", and that actress Jennifer Lopez would announce that she was pregnant by June 2005.
3.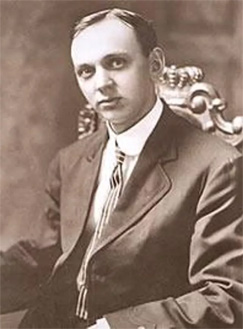 Edgar Cayce is one of the most famous mediums in the world is John Edward (his name is often mistaken for John Edwards – medium).
A New York born and raised psychic medium and best selling author, he conducts his readings with a no-nonsense style.
This famous medium has starred in Crossing Over with John Edward, a television show in which he would give messages from those on the other side to audience members.
His website and books talk about how he was told at a young age that he would be a beacon, using his gifts to teach people worldwide.  That prophecy has certainly come true!
4.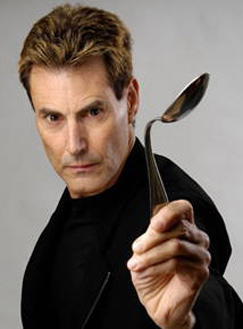 Uri GellerUri Geller is an Israeli illusionist, well known internationally as a magician, television personality, and self-proclaimed psychic. He is known for his trademark television performances of spoon bending and other supposed psychic effects. Throughout the years, Geller has used simple conjuring tricks to simulate the effects of psychokinesis and telepathy.
5.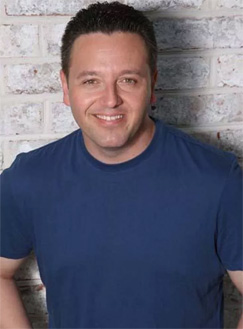 John Edward is one of the most famous mediums in the world is John Edward (his name is often mistaken for John Edwards – medium).
A New York born and raised psychic medium and best selling author, he conducts his readings with a no-nonsense style.
This famous medium has starred in Crossing Over with John Edward, a television show in which he would give messages from those on the other side to audience members.
His website and books talk about how he was told at a young age that he would be a beacon, using his gifts to teach people worldwide. That prophecy has certainly come true!
6.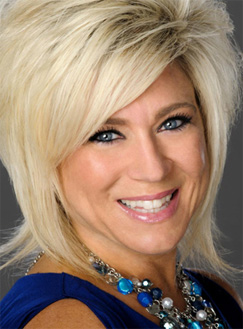 Theresa CaputoTheresa Caputo, also known as the Long Island Medium, is a popular medium and reality television star based out of Hicksville, New York. With blonde locks and heavy eye shadow, she brings a decidily New Yorker perspective on spiritualism. While derided by some as taking advantage of mourning people on television for money, many trust her experiences and insights into the world of spiritualism.
Theresa Caputo uses new forms of reaching out to her spirits' families, including email and television. Still young, she's already submitted a legacy as one of the most controversial and visible mediums in the world. Currently the star of one television series on TLC, "The Long Island Medium", she also performs her work in theaters throughout major cities.
7.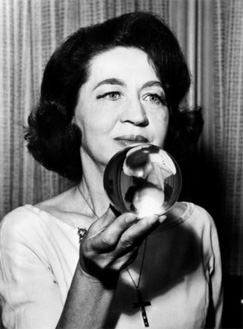 Jeane Dixon was one of the best-known American self-proclaimed psychics and astrologers of the 20th century, due to her syndicated newspaper astrology column, some well-publicized predictions, and a best-selling biography.
Dixon reportedly predicted the assassination of President John F. Kennedy. In the May 13, 1956, issue of Parade Magazine she wrote that the 1960 presidential election would be "dominated by labor and won by a Democrat" who would then go on to "Be assassinated or die in office though not necessarily in his first term." She later admitted, "During the 1960 election, I saw Richard Nixon as the winner", and at the time made unequivocal predictions that JFK would fail to win the election.
Dixon was the author of seven books, including her autobiography, a horoscope book for dogs and an astrological cookbook. She gained public awareness through the biographical volume, A Gift of Prophecy: The Phenomenal Jeane Dixon, written by syndicated columnist Ruth Montgomery. Published in 1965, the book sold more than three million copies. She professed to be a devout Roman Catholic and she attributed her prophetic ability to God. Another million seller, My Life and Prophecies, was credited "as told to Rene Noorbergen", but Dixon was sued by Adele Fletcher, who claimed that her rejected manuscript was rewritten and published as that book. Fletcher was awarded five percent of the royalties by a jury.
President Richard Nixon followed her predictions[citation needed] through his secretary, Rose Mary Woods, and met with her in the Oval Office at least once, in 1971. The following year, her prediction of terrorist attacks in the United States in the wake of the Munich massacre spurred Nixon to set up a cabinet committee on counterterrorism. She was one of several astrologers who gave advice to Nancy Reagan.
8.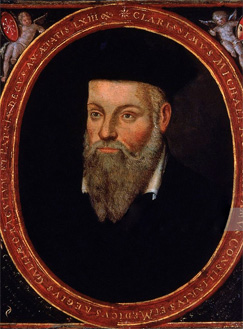 NostradamusMichel de Nostredame, later to be known as the famous psychic 'Nostradamus' was born on December 14th, 1503 in St. Remy de Provence, France. His education in part was influenced by his families descent, which was Jewish, though he and his family converted to Catholicism when he was a young boy. He studied Jewish occult literature as well as astrology, which led to his introduction to Latin, Greek and Hebrew. In his later years, he was sent to Avignon, France, to study medicine. His education in medicine gained him a bachelor degree and it was soon after that he started the path of healing and was even instrumental in developing methods of treatment, which helped those suffering from the Black Plague.
9.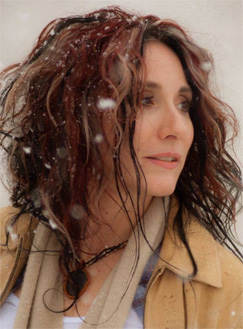 Danielle Egnew is a musician, actress, media personality, activist and self-described psychic known in the areas of music, film, radio and television for both performing and producing in all four genres. Born in Billings, Montana on February 28, 1969, Danielle Egnew currently resides in Los Angeles.
10.
Thomas Charles LethbridgeLethbridge was a dedicated researcher who considered matters known as "the occult" with what he considered to be a scientific approach and put forward theories on ghosts, witchcraft, dowsing, psychokinesis and even aliens. His book The Power of the Pendulum, documents his research into dowsing by means of the pendulum. Lethbridge died while the book was still in draft form.
The book is a conclusion to the author's lifelong study of the worlds of the unexplained and the occult. Through his experience with the pendulum and his work with dreams, Lethbridge concluded that there are other realms of reality beyond this one and that the soul is probably immortal.
11.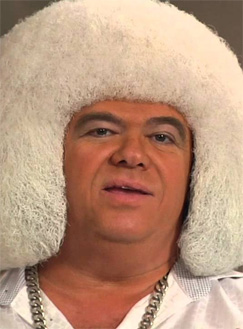 Gary Spivey is a self-proclaimed psychic, medium, spiritual healer and spiritual teacher. He has made appearances on radio programs, TV shows, in live casino shows, and also conducts personal readings, seminars, workshops, and retreats.
12.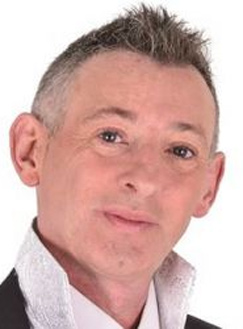 Colin Fry Colin Fry is an English television personality, entertainer and self-proclaimed medium. His critics assert that he has no paranormal powers and merely uses basic cold reading techniques.
13.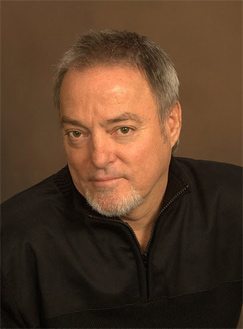 Mark EdwardMark Edward is a professional mentalist who specializes in magic of the mind. He has spent over twenty five years in world class venues from high-end night clubs and theaters to hundreds of private party and corporate events. As one of only five specially chosen and trained mediums in the history of Hollywood's famed Magic Castle, he has performed fifteen years of seances that helped him perfect the role of spirit medium and psychic entertainer. During this time he wrote several books on these subjects and appeared on television as both primary consultant and on-air performer in such diverse programming as A & E's Biography: "Houdini, the Great Escape," NBC's "The Other Side" and "Psychic Secrets Revealed," The Sci-Fi Channel's "Mysteries, Magic and Miracles," The Discovery Channel's "Forces Beyond," and most recently on two episodes of The Learning Channel's "Exploring the Unknown." His featured segment as a spirit medium on the pilot episode of Showtime's "Penn & Teller's Bullshit!" series entitled "Speaking with the Dead" helped secure an Emmy Award nomination for that episode in 2002. He continues to be consulted by the media for his knowledge of spiritualism, psychic fraud and ghost lore.
14.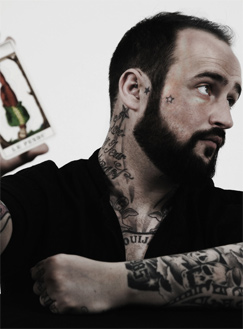 Luke Jermay is the most incredible man you've probably never heard of.  He can read your mind.  No really; he can read your mind.  He doesn't use mind games or psychological tricks; he is not a trickster, there are no smoke and mirrors. Combining intuition and hypnosis he can simply read your mind.  His awe inspiring hypnotic and intuitive abilities have gained him high profile fans such as Derren Brown, Dynamo and Uri Geller who all agree Jermay is astonishing.  You will be amazed at Jermay's incredible powers; he knows your past, present and future, sometimes better than you do. From your favourite schoolteacher, childhood pet even the colour of your underwear, Jermay impossibly knows all, sees all and tells (almost) all in expert displays of hypnosis and telepathy developed to amazing razor sharp accuracy.
15.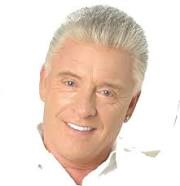 Derek AcorahDerek is one of the world's most renowned Spiritualist Mediums having demonstrated to millions of people in theatres throughout the UK and beyond over his 25 year career in the public eye.
Derek's television career dates back over fifteen years when he became the first Medium in the UK to demonstrate live on air and without the benefit of an edit suite on programmes such as "Psychic Live Time" and "The Psychic Zone".
His audiences were enormous and not merely UK based but went out to Europe, the Middle East, India, Australia and New Zealand. He followed up with a further programme "Derek Acorah's Predictions" which involved Derek conducting investigations of allegedly haunted locations. This programme became the forerunner for many of the ghost investigation programmes that have aired since in the UK.