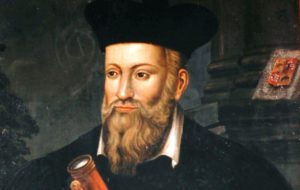 People aren't just interested with gossips but we've always been curious about historic events and people who shapes the world. In our modern society,  it is easy to get online and read the news as it happens but that hasn't always been the case. The people of the world often turned to visionaries and prophets to gain a better understanding of the world.
For centuries, people have turned to the poetic prophecies of Nostradamus to examine historical events and satisfy their curiosity about the world. Born in 1503, Michel de Nostredame (later known as Nostradamus) was a French apothecary who is one of the most famous seers of all time. He first began school at the University of Avignon and aspired to be a doctor. His studies were interrupted when the university was closed because of the plague that was sweeping the world. At that time he traveled the European countryside to give aid and comfort to the victims of the plague.
As he grew older, he began to seek answers in astrological charts and from occult sources. He compared astrological charts of past events to future celestial happenings, and he deeply meditated to predict future events. His first and most famous book of prophecies was published in 1555. It has rarely been out of print since its first publication. This book contained more than 1,000 prophecies written as quatrains, which are poems with four lines.
By using poetic language, Nostradamus was able to give voice to centuries of visions. His thousands of prophecies have been credited with seeing such world changing events ranging from tragic weather events and major world wars to scientific breakthroughs.
Dark Predictions of Violent Times
Often times some of the most influential events in history come from times of war and strife. There are countless quatrains written by Nostradamus that have been credited with predicting the start of the French Revolution to the fall of Napoleon and the rise of Hitler. Most recently, his predictions have been linked to the fateful events of 9-11, while other quatrains have some believers preparing for World War III.
Scientific Discoveries That Changed the World
While many of us have had a "Eureka!" moment of our own, there are some discoveries that have totally transformed what we know of the universe. Nostradamus is not only credited with seeing major world events, he is also credited with seeing future scientific breakthroughs. From the life-saving work of Louis Pasteur to the terrifying power of the atomic bomb, Nostradamus wrote about future discoveries at a time when many people still believed the world to be flat.
The Life and Times of the Famous
While it's not unusual for wars and scientific breakthroughs to change the world that we live in, there are always people at the heart of these world events who influence the events. Nostradamus is often credited with seeing the life and deaths of some of the most influential and famous people in the world. He is credited with seeing the birth of Hitler and the death of some of the most beloved figures in modern history including the Kennedy brothers and Princess Diana.
While many experts will debate the meanings of his poetic visions, there is undeniable power behind his life's work as a seer.